11-16-00 -- R.I.P. DJ SCREW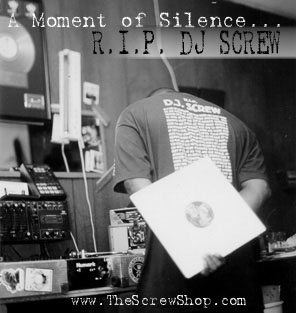 Well it's been 5 long years since DJ SCREW, the official King of Houston Rap to this day, passed from our earth. A lot of things have changed in Houston, and a lot of things have stayed the same. This pioneer needs to be remembered as his legacy surely lives on. Major labels are "Screwing and Chopping" records. Radio stations now have "Screwed" shows. People around the world are viewing the sound as revolutionary while not too long ago they looked at it as stupid and backwards. The sound is spreading and his goal of "Screwing up the World" is finally coming into fruition. (Though I think Reagan, Bush, Blair, Chirac and a few others out there kind of beat him to it, in a whole 'nother way).
I never knew DJ Screw personally, and was in his presence only once, at a record store in passing. But I followed his career from Day 1. Admittedly, in the beginning I really did not get what he was doing at all. I'm talking about 1991, 1992 or some shit. When people would play a Screw tape for me, I would almost go ballistic, like "Why the fuck is he slowing this shit down and why the fuck do youlike this shit? Are you insane?" Like seriously. Of course. that era was back in the day of the um, how you say, "Real Hip Hop." And I was of course jamming records from folks like the Geto Boys, Kool G. Rap, Ice Cube, Black Sheep, Del, Public Enemy... much more upbeat shit.
I didn't get it, I'll admit that fully, I didn't get it at all until 1995 when I moved to Austin after a year in New York. I was so happy to be back in the south, hearing MY MUSIC again, and it was about this time when I really noticed Screw starting to really spread his sound and take hold of people outside of his world on the south side of Houston. When I lived in New York I would play records like The Diary and Super Tight for people (sometimes I would put the speakers out the window on my block in Brooklyn just to piss off my dumb butt homeys who would hang outside and smoke blunts), andmost looked at me like I was crazy. Like I was tainting hip hop or something. I always wished that I would have had a Screw tape when I lived there. In 1994 I would have probably given somebody an aneurism out there or some shit.
I moved to Amsterdam in 1996, had a couple tapes I would play for only select friends. They really didn't get it. The mixtape bootleggers I knew didn't even want to dub it and fuck with it, and this is in a city where you can smoke weed 24/7 pretty much legally. In fact I think you are required to smoke weed at every waking moment out there. The Dutch pace is slower than even Houston. Then I came back to Austin in 1997 and it seemed like every car that passed me by was banging Screw.
I got a job at Music Mania in 1998. Music Mania is like the center of hip hop in Austin (o.k. I'm ready for 80% of Austin to dispute that). At least it was back then. You can get everything coming out of Texas at Music Mania. I mean everything from mixtapes to official releases to DVD's to T-Shirts, whatever, Music Mania is the spot.
Back in 1998 though, they refused to sell mixtapes. Granted there weren't as many Texas mixtapes as there are today, but back then they looked at them as bootlegs and didn't want any heat to come down on them from the RIAA. That is until someone walked in claiming to be DJ Screw's cousin and started selling them tapes (which we later learned were bootlegs of DJ Screw's tapes. See DJ Screw wouldn't sell to retail. He only sold hand to hand out of his house and later out of his shop).
Man I'ma tell you this, once Music Mania started selling Screw tapes everyone elses titles began to suffer. All I would hear ALL DAY AND NIGHT behind the counter was "You got Screw?" "You got Screwtapes?" "What Screw you got?" "I heard y'all got Screw tapes." "You got Screw?" "You got Screw?" "You got Screw?" "You got Screw?" "You got Screw?" "You got Screw?" "You got Screw?" "You got Screw?" "You got Screw?" "You got Screw?" "You got Screw?" "You got Screw?" "You got Screw?" "You got Screw?" "You got Screw?" "You got Screw?" "You got Screw?" "You got Screw?" "You got Screw?" "You got Screw?" "You got Screw?" "You got Screw?" "You got Screw?" "You got Screw?" "You got Screw?"
I'm saying, once word hit the streets that a new batch of Screw tapes were in, usually like 100 tapes at a time, the entire city would flock to the shop and walk straight to the counter (they kept 'em behind the counter) and just stare at the titles until they could decide which one to buy. Literally, 90% of the customers would come in and ask for Screw tapes, if we were out, which we always were after day 1, they would turn around and leave. Not even look at shit. If we had 'em, they'd buy 'em like hotcakes.
Then one morning we all showed up for work and the glass door out front had been broken with a brick. Someone broke into Music Mania and get this, didn't touch anything but the fresh batch of Screw tapes. I'm serious, someone smashed the window, broke in the store and only stole the Screw tapes from behind the counter. They didn't try to open the cash register, they didn't rummage around nothing, they didn't steal any CD's, nothing but Screw tapes were missing the next day.
The owners panicked. I wondered if it was some kid who wanted to come up and wa slike outside his high school that afternoon selling Screw tapes. Or if it was a representative for Screw sending a little message, "Don't bootleg Screws shit."
I have no idea. I bet someone reading this blog knows exactly what happened, but me, I have no idea.
It was his own fault though to a certain extent. I mean, Screw could do what he wanted, but shit, retailers from around the state were SCREAMING to buy Screw tapes. But he wouldn't sell to them. You had to get 'em from the shop, directly from him, or you couldn't get them. Did Screw even do mail order? I'm not sure. All I know is that man was a walking revolution lik eyou have never seen before.
I don't care where you are from or what DJ you might love, no DJ touched his community like DJ Screw did. Gimme the biggest DJ in New York, he may make a lot of money, but he didn't infiltrate the souls of his listeners like DJ Screw. It's impossible to explain if you never saw it, but DJ Screw really changed the game down here. In fact, he might not even have changed the game. I think he really created it.
RIP DJ SCREW.
Tonight on Damage Control we'll be doing our annual tribute to DJ Screw. We do 'em twice a year on the anniversary of his birth in July and on the anniversary of his death in November. Today is actually the real anniversary, 5 years gone now. We expect everyone to come down and show out. We still have to raise money for the station, but shit, I'ma try to have a 2 hour freestyle in that bitch.
Tune in.
www.kpft.org
Midnight till 2 a.m. Central Time
P.S. When Screw died, I was living in Chicago. Somebody hit me on the internet about it. I really don't remember who told me. I got on the phone, started making calls to Houston and it was confirmed. I remember it was cold as hell that night. I don't even know why, but I just grabbed some tapes, walked out the house and went to the car and drove around for a couple hours just jammin' Screw. Calling people on the cell phone just freaking out. He was one of those dudes you just expected to be around forever. He was more than just a DJ, he was Houston.